Award & Advertising products division.
Specializing in the development, production, and wholesale export of OEM / bespoke products for the award and advertising industries.

Controlling quality, consolidating multiple item orders, arranging shipments, and advising upon import procedure to your country.
Production process abilities.
Mold making, alloy casting, metal stamping, plastic injection, electroplating, enameling, sculpting, woodworking, printing, painting, and engraving.
Materials Used.
Various metals, alloys, plastics, woods, resins, stones, enamels and fabrics.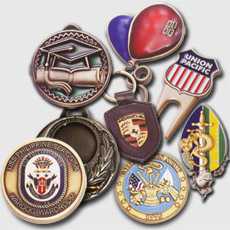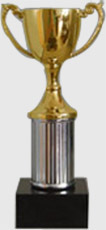 Bespoke award and recognition products.
Medals, Trophies, Shields, Plaques, Statuettes, Badges, Plastic components, Metal components, Bases, Name plates and Decals.
Bespoke Promotional items.
Pins, key tags, book marks, commemorative coins, bottle openers, bag tags, money clips, charms, belt buckles and many more.
Added value service for ribbon award makers.
We consider our development abilities to be an added value service in support of our ribbon award clients, not as a means for extra profit in itself.
Pricing.
Not only will you get China direct price per unit with low set up costs but as a valued client of ChinaRosettes you will receive discount pricing with at least 5% reduction from normal quotations given by our A & A division.
Get an idea of our range and ability.
Please visit the dedicated web of our award & advertising products division and take a look at our catalogue to get an idea of the range and quality that we can achieve in collaboration with you.