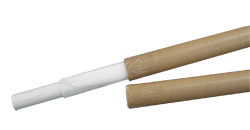 Product:

Ribbon print foil for printing on ribbon is also called Silver and Gold thermal transfer ribbon, transfer foil, thermal foil or heat transfer foil.


Features:



Ink side out



Carrier thickness: 5.7µ



Available in both silver and gold



Good scratch/rub resistance


Minimum Quantity:

One roll


Size of roll:

620mm x 300 meters.


Price (FOB)

Price (Courier delivery to your door 10 days)

Price (Sea shipment to your closest main seaport 40 days)


please

Contact Us

for more information.



Click here to go back to the

Main Product Menu.