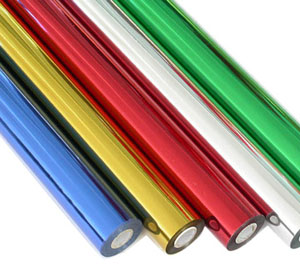 Product:

Hot stamp foil. Also known as hot foil, Gold stamping foil, embossing foil, blocking foil, or gold foil for printing.


Specifications:



12µ x 640mm x 120m roll


Application:

Ordinary paper, press coated paper, ink-printed paper, artificial leather and book binding. (The applications we suggest have been tested in our workshop, but, we recommend that you carry out your own tests to confirm that the foil you envisage using is appropriate for your particular application.)


Suggest Working Condition:



Up-down, Platen and Clam-shell or roll stamping Machine, 110ºC - 150ºC.


Stamping Hint:



Adjust temperature, contact time and pressure to reach the
best stamping effects.



you may need to adjust the stamping mold to have even
pressure, by adjusting the position of the chase. Changing from alloy moulds to softer materials or vice versa or polishing your
moulds may also give better results.


For further details of this item, please

Contact Us.



Click here to go back to the

Main Product Menu.